Die Rote Dame Bea,

eine feenhafte mit Federn bestückte Frau…
Ein schöner Blickfang aus weiter Ferne! Bezaubernd charmant in herzlicher Nähe, verschenkt sie "Herzenswünsche"! Das sind rote Seidenpapierherzen, die wenn man sich an das Herz hält, (an die Stelle die Leicht pocht)…und sich einen Wunsch so fest Vorstellt, das dieser fast zum Sehen und riechen ist und dann ganz fest daran glaubt… so geht dieser in Erfüllung!
The Red Lady Bea, a fairy-tale feathered woman …
A nice eye-catcher from far away! Charmingly charming in warm proximity, she gives away "heartfelt wishes"! These are red tissue paper hearts, which, if you hold on to the heart, (in the place the light beats) … and imagine a wish so firmly that this is almost to see and smell and then firmly believe in it … so goes this true!
Mlle Prrrr.. gleich zu sehen am Anfang:

auch mit musikalischer Begleitung hier Lukas Bonewitz, (Flamencogittare) als Nachtwächter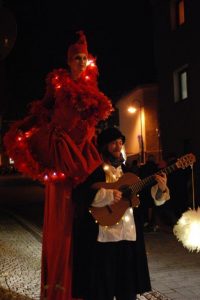 Mo
…ist ein Fantasiewesen, mit einer Fantasiesprache und buffonesken sein. Sie tritt in den Kontakt mit den Passanten. Sie würde ungeheurlich gerne erschrecken und furchteinflösend sein, leider hat sie selbst vor allem Angst.
… is a fantasy, with a fantasy language and buffonesque. She comes into contact with the passers-by. She would be terribly frightened and terrifying, unfortunately, she is afraid of everything
Clownin Olga
Olga übt für das Seepferdchen…
Olga practices for the seahorse …